The simplest and most intuitive system for a non-invasive skin thightening and for reducing wrinkles from the face and toning the body. It uses the combination of radiofrequency and bio photonic stimulation technologies to offer comfortable and safe treatments for every type of skin, without any recovery time.
Immediate and visible results from the first application
FAST TREATMENTS WITH LASTING EFFECTS OVER TIME.
The treatment includes several sessions, normally 6 and 8 applications with an interval of 7 – 15 days between sessions and with visible results from the first session. The effects last between about 9 and 12 months, so once the treatment is finished, it is recommended to carry out a maintenance cycle every 3-6 months to preserve the results.
THE FACE AND BODY TREATMENTS HAVE NEVER BEEN SO EFFECTIVE
Radiofrequency produces an increase in temperature (hyperthermia), by converting electricity into internal heat, which uses alternating currents of very high frequency. In this interval of alternation, the passage from positive to negative in the electric field causes a rotary movement of the molecules that generates a release of heat and an increase in cellular metabolism. Heat is generated inside the tissue, reaching the deep layers of the dermis without damaging the epidermis.
EVERY HARD SESSION ABOUT 20 MINUTES IN FACE TREATMENT AND 35 MINUTES FOR BODY TREATMENTS
In the first phase, a preheating of the area to be treated is carried out by applying the low-power handpiece, then it passes to work with greater power until it reaches a pleasant sensation of heat in the application area. Optionally, after this phase it is possible to perform a third phase emphasized in specific areas. The patient notes a perfectly bearable internal heat that can cause a slight reddening of the skin and a sensation of heat that resolves quickly.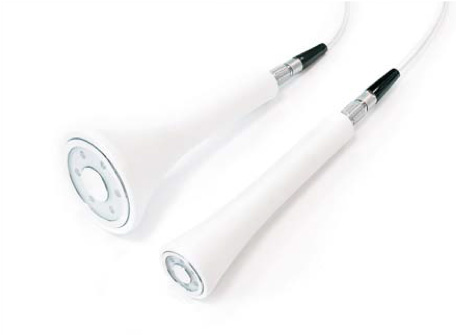 FROM THE FIRST SESSION YOU WILL NOTE A LIFTING EFFECT
Produced by the contraction of collagen. From the 2nd to the 3rd session the results are even more remarkable with a progressive improvement until the third month of the last treatment, when the body has already produced and restructured the new collagen and elastin fibers.
THE RESULT OF THE APPLICATION IS FIBROBLASTIC STIMULATION
To increase the production of collagen and elastin fibers which leads to the production of HSP 47 heat shock proteins, necessary for the correct structuring of the new collagen in the form of a triple helix. In this way we can combat flaccidity in the various areas of the body, and relieve the signs of aging on the face, minimizing wrinkles.